Prescreening prospective tenants is essential to reduce your overall turnover time commitment while still getting the best tenant possible. A quick phone call or a short survey can quickly filter out prospects that are either not eligible or aren't a good fit (typically due to timing). So, in this article, we'll discuss the benefits of prescreening, how to do it properly, and certain things to watch out for.
How does it help with my turnover?
In a typical turnover managed through PortfolioBay, a vacant unit receives close to 70-100 inquiries from listing sites like Zillow and Apartment.com. If the landlords were to coordinate and conduct showings for all prospects who requested a showing, there will be at least 30 showings that the landlord will have to coordinate, attend and show. This is a huge waste of time because as the landlord may learn during the showing, some prospects don't qualify, some don't have a moving time that works, and some just don't even show up.
By doing some prescreening, we can significantly reduce the number of unnecessary showings, letting the landlord focus on the leads that really matter. Another benefit of prescreening is that it makes the property premise safer for others. For example, if a person with a felony or violent crime history attends the showing at the property, even if the rental application gets ultimately declined, it still creates some unnecessary risk for other and subsequent tenants. Therefore, it's better to prescreen and find out any public records and decline the showing requests directly.
How to do prescreening effectively?
There are many ways you can do it, but they are not always efficient. To start, you can call each prospect and ask them a short list of prescreening questions. If they pass your prescreening check, you can then move forward and schedule a showing time. This is very inefficient, and, sometimes, not possible for someone who still works a 9-5 full-time job. Another way is to do it via email or text message, but they are just as inefficient and time-consuming as the phone call.
A better way is to use automated software that automatically sends all prospects the prescreening questionnaire. What if a prospect does not bother to fill out the short questionnaire? Then, good, you can just eliminate that prospect knowing that it was just a casual inquiry from someone browsing the rental listings, not someone seriously interested in the particular unit you have to offer. Quickly, just based on the prospect's motivation level, we can probably reduce the number of showing requests down to about 20, from 30.
Then, by going through the showing requests, we can further request the ones that don't meet the eligibility and timing requirements. In PortfolioBay, declining a showing request is as easy as two button clicks. After all the pre-screening, there will be 5-7 qualified and highly motivated prospects for the landlord to show the unit.
Things to watch out for when declining a showing request
Though declining a showing request is not as formal as declining a rental application, we still want to communicate it in a professional and legitimate way. First, the landlord should specify the reasons for declining a showing request, and the reason must be legal, and in compliance with Fair Housing Law.
Essentially, the landlord should communicate politely, and let the prospect know that due to his/her intelligibility, their rental application would be declined anyway. So, there is no need to proceed with a showing, saving both parties some time. In PortfolioBay, the landlord can select all applicable reasons, and a professional email response will be generated and sent to the prospects.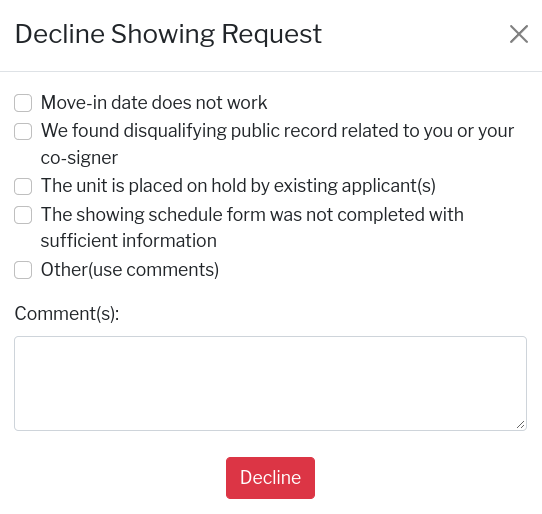 Last words
So, to manage turnover efficiently, it's important to do prescreening for all prospective tenant s. Because of the large volume of initial inquiries, it's also very beneficial to use tools like PortfolioBay to automate prescreening questionnaires and showing schedules.